In an effort to promote highway safety and inform the general public about the trucking industry, the North Carolina Trucking Association, through the NC Trucking Association Foundation, formed the North Carolina Road Team. The NC Road Team consists of commercial truck drivers who excel at their profession and are dedicated to safety, courtesy and responsibility.
The men and women selected each year to serve on the NC Road Team must be full time commercial truck drivers with excellent safe driving records, and must have the ability to relate the positive safety aspects of the transportation industry and its importance to a vibrant economy.
Presentations include school assemblies, driver education classes, business events, civic gatherings, safe driver banquets, driver meetings, and career events. NC Road Team members serve one-year terms, but "alumni" assist with large events.
To request a NC Road Team professional truck driver to speak at your event, contact NCTA at (919) 834-0387.
2019 - 2020 NC Road Team Captains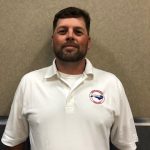 Chris Foley
Chris Foley from Wallace, North Carolina, is a die-hard Redskins fan, even though he admits "They're probably one of the worst rated NFL teams in recent history." It just goes to show you that things are not always as bad as they seem. Fans continue to parade even when games are not won!
Chris assumed he would spend his career in Marketing Management. After working as an Assistant Market Manager at Piggly Wiggly for 24 years, Chris was forced to make a career change when the company abruptly cut the budget. Although relatively new to the trucking industry, Chris says the career change was a transition he wishes he had made earlier. He received his training at Cape Fear Community College and began driving with Schneider in 2016. A year later, he began driving locally for Ezzell, and is now a trainer for wood chips and wood pellets, in addition to being a NC Road Team Captain.
Having fresh eyes for the industry, Chris quickly realized that the American economy depends on the transportation industry to keep vital resources available and moving throughout the country. The most satisfying aspect of being in the trucking industry to Chris is "Serving as a small piece of a vital puzzle. Everything around us; large businesses to 'mom and pop' stores rely on truck drivers for their products and supplies." Honoring the industry and the people in it, he says, "Each driver on the road is important, is needed, and has purpose."
Chris and his wife Whitney have two precious daughters, nine-year-old Lily Brooke, and two-year old Madilyn Kate.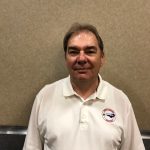 Richard Crumpler
Hailing from Holly Ridge, North Carolina, Richard has enjoyed being a truck driver for the past 35 years. He began his career driving a flatbed for a private Owner/Operator. He moved on to West Point Stevens, where he spent the next 11 years driving up and down the East Coast. He has been with his current employer, Walmart for over 2 years where he makes deliveries for Walmart and Sam's Club on the eastern coast.
In his long and successful history in the transportation industry, he has learned that patience is the key to maintaining consistency in his performance. "There are many obstacles on the road that require drivers to react with a level head, and there's rarely time for incorrect responses," Richard explains. His conscious awareness serves as a foundation for maintaining his clean driving history and appropriate CSA score.
While Richard and his wife Renae, do not have children, they are 'parents' to Riley, their beloved Cocker Spaniel who adds a dimension of joy to their lives, as only Cocker Spaniels can do! Richard enjoys spending time in his church, but also makes sure to save time for his two favorite hobbies: building and fishing.
A little-known fact, for which we are all grateful, is that he served in the US Army Airborne Division from 1974-1980 and as he humorously recounts "I actually enjoyed jumping out of perfectly good airplanes!"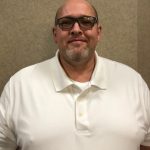 Luke Mallory
Donald Luke Mallory was born in Cincinnati, Ohio, but as a young child relocated to Haiti with his family, where he spent the remainder of his childhood. Upon graduating from high school, Luke attended Bob Jones University where he earned an Associate Degree in Applied Science. With his degree in hand, Luke moved to Greensboro, North Carolina and took a job at New Breed as a repair mechanic. After seven years with the company, his department lost their contract, and he was laid off. For the next two years, Luke worked at MatLab, when he realized it was time for a career change. He attended Old Dominion Truck Driver Training School and has continued to work with the company for the past fourteen years, working both as a line-haul driver and driver trainer. He is proud to say that he reached his one million perfect miles in 2017.
Luke balances his trucking life with his family and his faith. He and his wife and best friend, Brandi have been married for 23 years and they have three adult children. Luke is a deacon in his church and says that what he has taken away from these experiences is that "Life is always changing, but the Good Lord always prepares us for the next step in life."
His surprising CB handle 'Sleepy Bear,' is no reflection of his views on trucking. He believes that good drivers are the key to the country's well-being, and says that the best thing about the industry is "the freedom and equality it provides."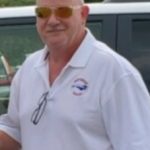 Rick Soles
Rick Soles, or Ricky, as he likes to be called, has been in the freight business for 18 years. It seems to be his calling in life. His mother recalls that even as a child, all Ricky ever wanted to do when he grew up was be a truck driver.
Born in Thomasville, North Carolina in 1966, Ricky started out on the docks at Old Dominion Freight Line, where his childhood dream of becoming a trucker only flourished. He went on to attend the Old Dominion Trucking school and never looked back. He has loved driving ever since.
Not everyone stays with a company from dock days to being an NC Road Captain, but Ricky feels that he made a great choice by investing his time with Old Dominion Freight Line, and his investment has paid off. He believes that he and his family have benefited from his time at Old Dominion and that the transportation industry holds promise of opportunities for others as well.
Now living with his family in Lincolnton, North Carolina, Ricky is a family man who loves being with his wife and grandchildren. In addition to his career and work as a NC Road Captain, there are a couple of little-known facts about Ricky. He has a passion for history and he pulls for the Washington Redskins. He has been a Redskins fan since he was 18 "They are the only team I've ever pulled for and still do." Ricky loves his work, loves his family, loves Old Dominion. He sums his life up by simply saying, "I'm feeling blessed, truly blessed!!"